/
A 12-Step Guide to Planning an Ideal Wedding
/
© 2023 BreakTHrough
All rights reserved.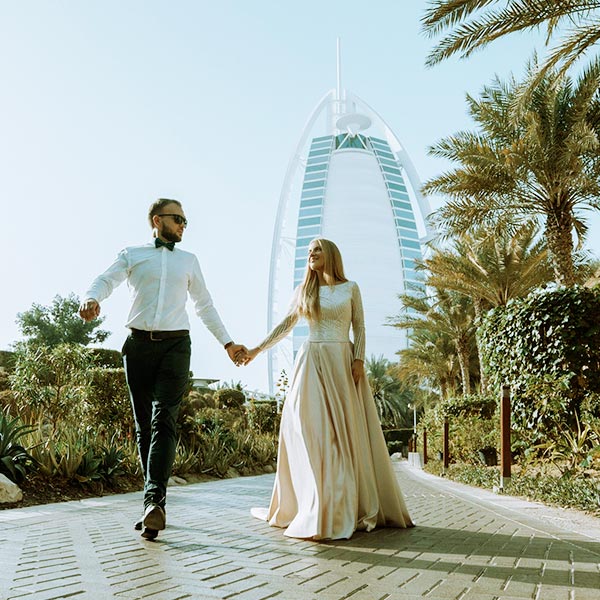 Useful tips for weddings planned in the UAE, Saudi Arabia and Qatar
Everyone wants to be happy. And we all want a fairytale… From our childhood we dream of a perfect wedding, and what if it turns out to be not as perfect as we imagined? We will be disappointed for the rest of our life! And, on the contrary, if the wedding was a pleasure, memories will warm our hearts many years later.

So, how to plan a dream wedding?
We are here to help! Follow our step-by-step plan and enjoy your big day.

1. Identify Your Wedding Vision
Just before you dive into the real planning, spend some minutes (or maybe even days) thinking of what you want your wedding to be like.
What style will you chose: the one of «One Thousand and One Nights» or you want it to look more European? Will it be a traditional Arab wedding or an international one? What do you want to see around? What season will it be? If you have any priorities, list all of them. For example, you imagine the wedding of your dream to take place in a special venue or maybe you want a certain photographer to take pictures of you. Everything that makes you happy matters.
Share your thoughts with your partner. The wedding should be a reflection of you and your future spouse as a couple, so the first thing to do will be to define your wedding vision together.

2. Pin Your Ideas
Once you and your love agreed upon the vision in general, you should think about the details. Look for the ideas of your preferred decor styles, attire, colors, florals and other on Pinterest, Instagram and in special magazines for brides.Save the pictures on your phone or pin them on Pinterest. It will help to see more clearly what you really want and might be useful for the wedding agency that organizes the whole celebration or your further purchases if you stick to DIY strategy.

3. Set Your Wedding Budget
Here you might need to check what amount you and your partner are comfortable with, if any family members are contributing (and if yes, what the sum is), if the compensation from the government is applicable in your case. Keep in mind that there can be unexpected additional costs or last-minute changes. Plan to have at least 10 to 15 percent for the unforeseen.


4. Define the Dates
Set realistic dates: you have many things to do. Be mindful of religious months and holidays.


5. Find Professionals to Help You
Involve professionals in your planning. In this case you have more chances not to be stressed too much and to enjoy the celebration. It is better to find a wedding planner in advance. The best vendors are usually in high demand, together with the best venues, so the earlier you contact the agency, the better.
Make sure the wedding planner has been present in your area for some time, so that they are familiar with the cultural specialities.

6. Book the Venue
If there is a wedding agency that helps you, they will most probably offer you best options. If you chose the venue yourself, make sure that the team in charge of the venue is flexible: the guest list can change many times throughout the planning process. Ask them beforehand if they can provide additional tables if on the big day there arrive more guests that you planned.
It is always better to have a look at the venue offline and not only on the pictures. While on tour in the venue, make sure there is enough space for the guests to dance.

7. Think of the Way to Entertain Your Wedding Guests
If you want your wedding to be remembered, you should definitely think of how you will entertain your guests. Maybe you dream of something unique, something that no one has ever had, but you do not know what exactly. In this case the best strategy is to consult an entertainment agency. Singing waiters, live circus performers, orchestra, Hollywood celebrities, water ballet, piano aerialist: the right entertainment agency can provide all of this for your wedding and even more!
Give priority to the ones that specialize in custom-made events: in this case you can be sure that they will consider what you want and will do their best to make it happen.
If you organize entertainment yourself, first of all think of the music. Sometimes finding the right band can be challenging: it depends, of course, on your guests' preferences, but some experienced wedding planners say that you need to find the band that will be still playing after 1 a.m. and the one that will know the songs that your relatives want to dance to. Once it is all settled with the music, think of other things to entertain your guests. Immersive art installation? Dance show? You can find some ideas for entertainment here.

8. Create Checklist
In case there is a wedding agency that helps you with the planning, you might need even two checklists: one for the things that they do and the other for DIY things. Do not forget to include in the list such important things as obtaining necessary documents and buying wedding rings.
9. Find Your Perfect Wedding Dress
Some brides like to start all their wedding preparations from choosing the dress, because picturing themselves in a beautiful dress was the reason they were actually waiting the wedding for. Even if it is not your case, you should better choose the dress beforehand in order not to be stressed later.
10. Send Wedding Invitations
It is up to you to decide, but many brides say that it is better to invite just everyone in order to avoid someone from your big family to be offended. Maybe your auntie will not attend because she lives far away from you, but she will be pleased to know that you remember her.

If you invite to the wedding people who do not know your culture well, make sure to prepare them in a way that they do not do something that can insult the others.
Spend extra time on the seating chart with your wedding planner in order not to offend one of your cousins or aunts by putting them next to someone they don't enjoy spending time with.

11. Produce a Schedule of Events
In order for you, your vendors and your guests to be on the same page about timing and locations, create a comprehensive wedding day schedule. Once you created it, upload it on your special wedding site.

12. Enjoy Your Wedding!
When the wedding day comes, rejoice! It is your big day, your dream day, the one that you have done so much for. A new chapter of your life begins. Celebrate it!